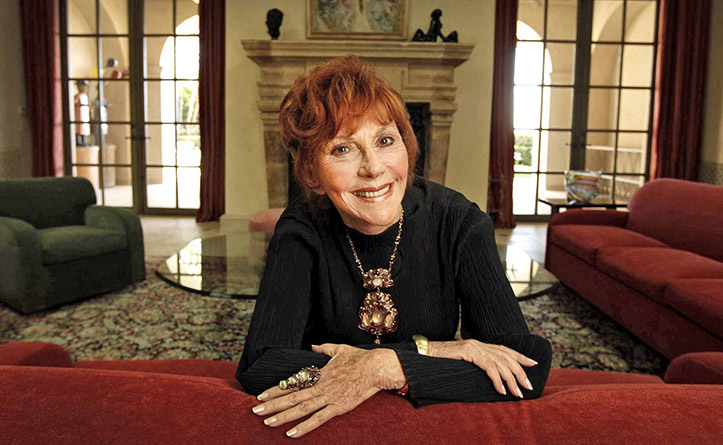 I feel extremely privileged to have the life that I have and the means to make a difference in the lives of others.
— Glorya Kaufman
Born in Detroit, Michigan, Glorya Kaufman is the younger daughter of Samuel and Eva Pinkis. Samuel was the production manager of Automotive News, which circulated throughout the United States, and Eva was a homemaker and a leader in the Jewish community, including serving as president of seven Jewish charitable organizations.
Glorya's love of dance began when she first danced standing on her father's shoes before she could walk. This love was fostered in her teens when Glorya frequented jazz clubs during Detroit's jazz heyday. Sadly, her early childhood was marked with a condition called strabismus, where a child's eyes are oriented in different directions, causing the brain to switch eyes without control and leading to visual problems that resulted in poor vision development. Strabismus is best corrected with surgery during pre-school, but the longer a child waits, the lower the chance of complete recovery. As a result of these early experiences, good and bad, it should come as no surprise that many of Glorya's philanthropic endeavors evolved from her twin passions for dance and care for the disadvantaged.
Glorya met and married building contractor Donald Bruce Kaufman in the early 1950s. They became partners in life and work from the time she sold her car and some jewelry to help Don buy his first building lots in Detroit. Her early contribution enabled Don to realize his revolutionary vision for home construction during the nation's housing boom after World War II. He founded Kaufman and Broad Home Corporation (later KB Homes) with his accountant-turned-partner, the late Eli Broad, and the company became the first publicly traded home building company on the NYSE. In 1960 the Kaufman family moved to Phoenix, Arizona, to expand Don's business and then on to Huntington Harbor in California in 1963 and Beverly Hills in 1966. In 1969 they settled down at "Amber Hill" – a magnificent forty-eight-acre ranch in Brentwood, California.
In 1983 Don died tragically in the crash of his experimental bi-plane Witch-Hawk, along with their new son-in-law Eyal. Their daughter Gayl was eight months pregnant at the time and her son, Glorya's first grandchild, was named Eyal after his father.
Glorya recovered from the trauma and loss of her lifetime partner by pouring her energies into philanthropy. She established the Glorya Kaufman Foundation, which enables Glorya to express her values and vision through a diverse portfolio of giving. With her initial gift, Glorya paid tribute to her late husband, a voracious reader.
The 10,000-square-foot Donald Bruce Kaufman Brentwood Library serves the residents of over 2,000 homes and is one of the most heavily used libraries in Los Angeles.
Glorya has fulfilled her lifelong love for dance through transformative gifts to a wide range of prestigious institutions throughout the United States, tapping into the tremendous potential of dance to break down socio-cultural barriers and increase communication among people of all ages. She has endowed a position for a dance teacher at the Inner City Arts in East Los Angeles. Her donations have enabled over 17,000 children to participate in free dance classes annually at Inner-City Arts, introducing them to dance and movement as a uniquely effective way to convey meaning, emotion, and cultural values. In 2008, Glorya donated funds for the new dance floor in the state-of-the-art dance center for youth at the Mar Vista Family Center.
Glorya made one of the largest individual arts donations in UCLA history by funding the restoration of the UCLA Women's Gym, now known as Glorya Kaufman Hall. She provided four lifetime endowments in support of undergraduate students at the Alvin Ailey School of Dance in New York City, receiving an honorary degree from Fordham University, which partners with the Ailey School. Glorya has funded the creation of innovative spaces for performing arts education, including at internationally renowned Juilliard School in New York City, where a large, light-filled dance studio that faces onto Broadway bears her name.
However, the crown jewel of Glorya's passion for dance is inlaid into USC, the University of Southern California, where she worked tirelessly with Dean Robert Cutietta, faculty, and staff to create the university's school for dance in 2012: the USC Glorya Kaufman School of Dance. The Kaufman School is the first new department at USC in forty-one years and quickly became one of the finest dance schools on the globe. The Kaufman School gave USC and the world a rare opportunity to rethink the professional degree for 21st-century universities. She redefined the role of a dance school within the greater national ecology called "The New Movement," where artistic preeminence is combined with thoughtful industry access.
The Kaufman School was the first to add business courses to prepare dancers for their real-world financial challenges as artists, which has become a model for other institutions. The Kaufman School curriculum is designed to encourage students to think across boundaries and learn from the diverse cultures both on campus and within the Los Angeles arts community. Students graduate with hard skills and a unique global perspective that is reinforced through collaboration with national and international artists.
Dance is merely one of Glorya's great passions for expanding cultural arts in Los Angeles. Each season the Los Angeles Music Center comes alive with internationally renowned dance performances and musical interludes through her patronage of Glorya Kaufman Presents. She is a founding member of the Los Angeles Museum of Contemporary Art (MOCA), a patron of the Los Angeles County Museum of Art, and sits on the Board of Directors of the Geffen Playhouse, where she donated funds to build an outside reception area. She is also a patron of New York's Metropolitan Museum of Art and the Smithsonian Institution in Washington, D.C.
Glorya's concern for the health and well-being of young and old has been lifelong. In the 1980s, she provided seed money for the first center for women struggling with domestic violence in downtown Los Angeles. When the 1994 earthquake destroyed Saint John's Health Center in Santa Monica, she marched into the health center foundation to offer assistance, donating funds for a beautiful reception area in the new inpatient pavilion.
Having special concern for eye health, Glorya funded a pre-school mobile unit at UCLA Jules Stein Eye Clinic under the direction of Dr. Leonard Apt that has operated for over twenty years. The project was so successful that an additional $4 million dollar grant was given to expand the number of units. The mobile units provide eye exams for pre-school children at their schools. Glorya reached out to Los Angeles City Librarian John Szabo to arrange for fifteen libraries to be included in the mobile unit eye exam program. Within five years, over 90,000 pre-schoolers were tested by retired eye physicians. The program continues to expand its reach today.
Glorya is a patron of the Venice Family Clinic in Venice, California, where she donated funds for a new Eye Clinic with follow-up on children's eye care at the UCLA Jules Stein Eye Institute. Children receive free glasses and, along with their families, receive complete free medical care. The eye examination program has continued to expand over the years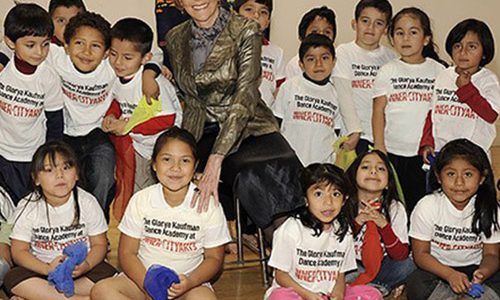 Believing in the enduring power of the arts to console, heal, create community, uplift, and transform lives, Glorya made a gift to The Actors Fund to create an 84-seat theater as part of the Hollywood Arts Collective. The Glorya Kaufman Hollywood Performing Arts Theater will enable the 151 resident artists to create new material and practice old routines.
Glorya also founded the Glorya Kaufman Performing Arts Center at Vista Del Mar in Los Angeles. Once a cottage-style orphanage, Vista Del Mar has grown into an innovative leader in education, mental health, autism, adoption, and early intervention services for children who suffer from abuse, neglect, and despair, with 250 children bused to the facility daily and forty-eight abuse survivors in residence. Vista Del Mar also places children in foster homes.
The Glorya Kaufman Performing Arts Center creates a venue for local and national performers to share the creative process and educate Vista students as well as other diverse audiences from the community through dance, music, and theatrical production.
Most recently, Glorya has undertaken an exciting project to build a community center with the Wende Museum,
a collections-based research and education institute in Culver City that preserves Cold War artifacts and history, making resources available to scholars and applying historical lessons of the past to the present.
The Glorya Kaufman Creative Community Center will bring education and culture to people who live throughout West Los Angeles.
In 2016 Glorya wrote her biography, The Gloryous Dance Affair, which can be purchased on Amazon. The Wende Museum Archives will house Glorya's personal collections and private papers in perpetuity. To learn more about Glorya, visit the Wende Museum archives—coming soon.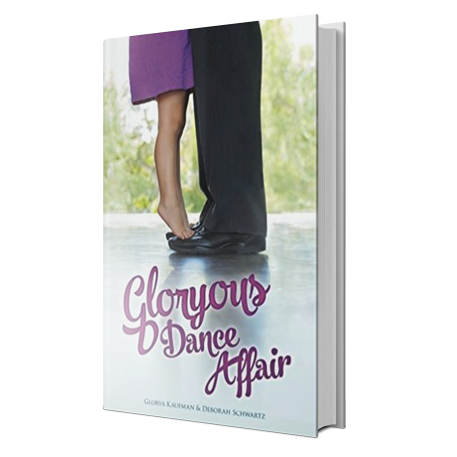 There are three magic entities that have intrigued me since I was a child: the brilliant color of fireworks bursting suddenly into the air, snowflakes drifting slowly into my hands in the Detroit winter, and the prisms of light in the soap bubbles I played with as a young girl, each unique as it floated into the sky.
I hope that all who read this book learn to cherish the fleeting moments of beauty and joy that delight us. I want to thank all of my wonderful and caring friends whose contributions have brought Gloryous Dance Affair to life.
I especially want to thank my co-author Debbie Schwartz. As we wrote this story we shared much laughter, some tears, and many of the magical moments that make life so beautiful. We both hope you enjoy this book.
PURCHASE